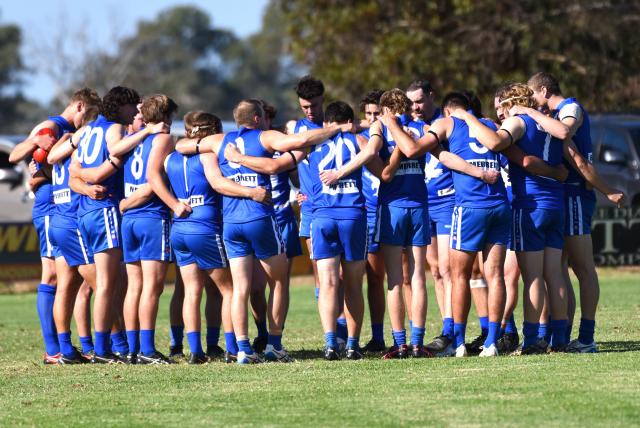 By Lachlan Onions
Penola Football Club president Marcus Devereux has quashed speculation which he felt suggested Penola was involved in a recent meeting at Millicent regarding a proposed 16-team competition for 2023.
Devereux said his club attended meetings with the regional council but has only attended the initial meeting since SANFL took over proceedings.
"They (SANFL) have told us we don't have to move and they cannot make us move," he said.
"At this stage we are 100 per cent staying in KNTFL but they are working and they want us to make the move if it does go ahead."
He said he is aware of what is occurring and has been in talks with Shawn Ford and Lisa Faraci from SANFL.
"We had the initial meeting to give our concerns as to how it was dealt with but since then, they have kept our wishes pretty clear," Devereux said.
"We said to them, we are not entertained with communications and meetings until something is in place.
"This new 16-team competition doesn't really affect us unless the other two leagues can agree to being amalgamated.
"We are only one club, we are not going to dictate whether this new league happens or not because they will just go with a 15-team competition."
Devereux said SANFL have made it clear it wants Penola to be a part of the new league but are happy for the Eagles to not be involved in the discussions until a format is put in place.
"We have said all along, for us to have any discussions with any possible changes, they would come to us with a format set in stone," he said
"The format cannot happen until the Mid South Eastern and Western Border Leagues agree on the changes.
"If we are interested, then we will start talking again."
Devereux said he has a good relationship with Faraci and made several phone calls to discuss the matter, because he said Penola's name had been "thrown out" in the media.
He said a recent social media post about the 16-team competition had mentioned Penola at the meeting in Millicent last week.
Devereux said he was unaware of the meeting that took place and Penola was not invited because SANFL has honoured the club's position.
"I was sitting at home, minding my own business with my family and I was getting messages internally from my committee asking what is going on," he said.
"So I had to kill the rumours internally last week to say I was not at the meeting and no one from the football or netball club were.
"The Kowree Naracoorte Tatiara Netball Association president and football league president saw the post on social media before we did."
He said the post was a bad look for the club as Penola had been open with the league about its position and the KNT officials wondered what was going on.
"We are lucky with KNT, we have support from all the other clubs, so we are just keeping them aware with what is happening," Devereux said.
"They will be the first to know anything, because they are our league, we are a part of that and we want to stay there.
"So there is something that possibly will happen but it is up to SANFL and the two most southern leagues before we get involved and decide."
He said if the time comes for the Penola Football Netball Club to make a decision, the club members and sponsors will get a say at a meeting.
"We want the best for our club, not just now but in 10, 20, 30 years time," Devereux said.
"We are a proud club and an old club.
"We want to be around forever."