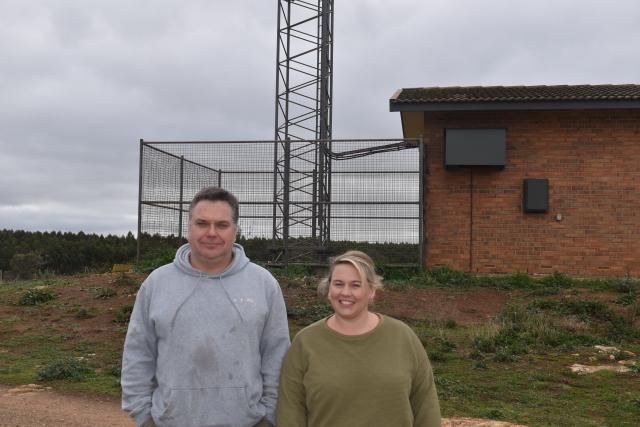 Wattle Range Council has committed $55,000 for a new phone tower at Maaoupe providing leverage towards efforts to secure further funding from telcos and other levels of government for the project estimated to cost $600,000.
The council commitment was made in its draft 2022/23 budget, which was released for public comment last week, and follows a deputation made to council by the Maaoupe Phone Tower Committee earlier this year.
At that deputation, committee members approached council for $100,000 to help provide a phone tower on V&A Lane to address a mobile phone blackspot in the area.
Despite the council's commitment being less than requested, the committee's Christie Gapp welcomed the contribution.
"Both Nick McBride [Member of Parliament for MacKillop] and Tony Pasin [Federal Member for Barker] have been extremely supportive as have Des Noll and Ben Gower from Wattle Range Council," Ms Gapp said.
"The committee is grateful for the funding of $55,000 from Wattle Range Council and its dedicated commitment.
"However, there is still a long way to go and more hurdles ahead.
"Our next step is to approach the state and federal government for funding and also Optus."
Ms Gapp said the committee was requesting that a police tower, erected after Ash Wednesday in 1983 but never used, be part of the project consideration.
"We are requesting that the old police tower on the St Mary's property be used for the phone tower," she said.
"It would cost much less than erecting a new tower.
"We are waiting for an engineer from Optus to inspect the tower as the site has to be approved by them.
"At this stage we don't know when that will be."
Ms Gapp said the tower would "hit off" other towers at Mount McIntrye, Mount Burr and Leggs Lane.
"We have no phone service out here and in the case of an emergency it is a disaster," she said.
"In the instance of the Coles fire there was no phone contact available at all.
"It was a very scary situation."
Ms Gapp said Optus Territory General Manager South Australia, Rob Seymour had visited the site.
Telstra Regional General Manager Michael Patterson told The Pennant that providing regional connectivity was not just a Telstra responsibility.
"It's a challenge that must be shared between federal, state and local governments and with providers such as us and other mobile carriers.
"We continually investigate new opportunities to further expand our mobile coverage, including co-investment opportunities such as the Federal Government's Mobile Black Spot Program and Regional Connectivity Program, and we are happy to work with Wattle Range Council to look at potential options."
Federal Member of Parliament for Barker, Tony Pasin said that Maaoupe was a great example of a proactive group of residents seeking to improve services.
"The Maaoupe community have been actively engaging with telcos and lobbying local and state government for co-funding contributions that could have been used to leverage investment from the Coalition Government's Connecting Regional Australia program," Mr Pasin said.
"While the local government funding commitment to address the mobile black spot in Maaoupe is very welcome, I'm concerned about how the new Federal Labor Government will implement their regional communications policy.
"The previous Rudd/Gillard/Rudd Federal Labor Government invested $0 and delivered 0 new mobile phone towers.
"The Albanese Government policy is to spend $20 million on an audit of mobile coverage (using Australia Post trucks), before they themselves determine the best locations to upgrade, taking the local community out of the equation.
"I've written to the new Federal Communications Minister about my concerns with the Labor policy and informing the Minister about the Maaoupe community's work on the issue," Mr Pasin said.
"I will continue to advocate on behalf of communities like Maaoupe to ensure community identified Mobile Black Spots are addressed."
The Pennant also approached Optus and the State Member of Parliament for MacKillop Nick McBride however responses were not received before publication deadline.