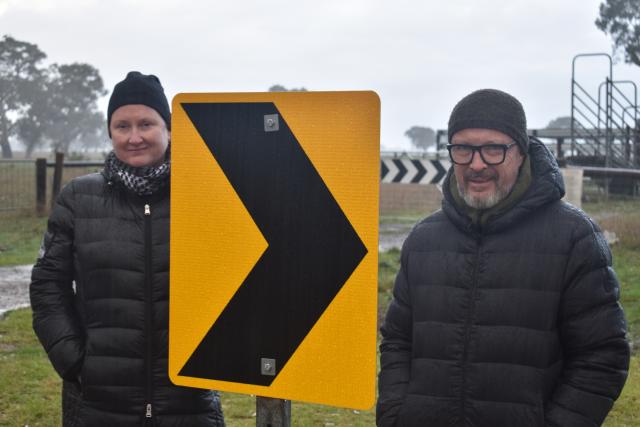 Kathy Fennell
Concerned residents on Gordon Street and South Terrace have welcomed new traffic signs warning motorists of an upcoming extremely sharp bend and give way signs on the approach of a major road.
However, the residents think there should be more signs erected several hundred metres prior to the newly erected signs.
"There needs to be a caution/slow down sign before both existing signs," said resident, Angus Ralton.
"This is a main thoroughfare for walkers with dogs, children on bikes and walkers in general.
"There is just nowhere to go, even if just two vehicles meet on the corner let alone two B-doubles."
Mr Ralton suggested a weight limit be placed on the road.
"Slow down signs could also be placed as well as speed humps approaching the highway," he said.
"It is not uncommon to see three or four trucks banked up on the corner because they just don't have the room to maneuver the corner."
Since the by-pass opened a lot of traffic approaching Penola from the east along Casterton Road is guided by GPS to take this route without having any knowledge of the road.
A resident on the street approached Council with concerns of a major accident happening having witnessed several vehicles towing caravans and other vehicles ending up way off the road.
The resident also commented on the speed vehicles travelled along the road which then have to stop suddenly at the main road intersection.
On Good Friday the resident counted 200 vehicles going past his home and the speed they were travelling was well in excess of 60km per hour then having to jam their brakes on when almost at the highway.
Director of Engineering Services of Wattle Range Council, Peter Halton said: "The Council has received funding for a detailed design plan for South Terrace.
"Once this is completed Council will seek funding to upgrade the road.
"The signs have been erected to highlight the very sharp bend and the approach to Church Street," he said.
Mr Ralton said it would be a much cheaper option for council to install speed humps and slow down signs rather than upgrading the road which would cost in excess of a million dollars.