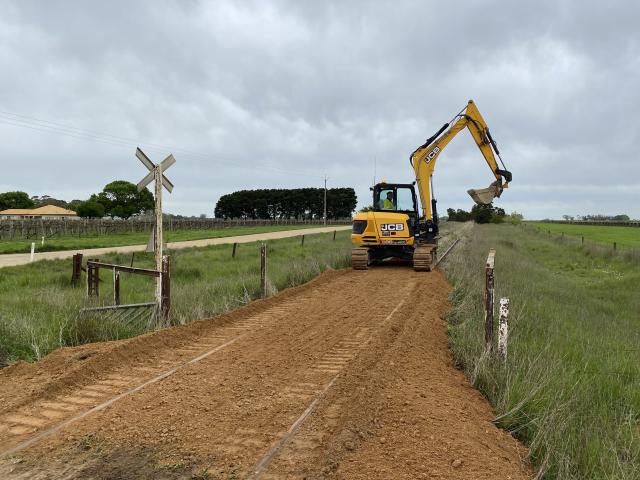 The 30km Penola/Coonawarra Rail Trail may have to be shortened with the $2m project facing unexpected cost pressures.
Predominately funded by the Federal Government, the project is being undertaken by the Wattle Range Council and is about 60 per cent complete after construction began last year.
A report compiled by council officers, tabled at council's monthly meeting last week, outlined more than $140,000 in invoices for unplanned required works, and more invoices were expected but had not been received and therefore were not detailed in the report.
At the council meeting, Cr Dale Price, in addressing the council report, noted that there were a number of issues and additional costs associated with the rail trail.
"Can we shorten it to keep it in budget?" he asked of council officers.
Council's Director of Engineering Services, Peter Halton replied to Cr Price saying that officers were reviewing project costings and would provide a report on available options to council's July meeting.
"That [shortening the rail trail] may be a possibility," he said in reply to Cr Price.
The report to council last week said officers were concerned about a number of necessary variations impacting on the rail trail's budget.
"These variations are civil works that were unknown during the concept design phase and have become known and were necessary to be implemented during the construction phase of the project," read the report.
The report provided several examples of unplanned costs.
"The gravel truck drivers were finding it challenging to drive their trucks in reverse direction for long distances on the railway tracks; there were instances of trucks sliding on embankments along the railway corridor," said the report.
"To alleviate this safety risk, a decision was made to build access ramps at strategic locations along the railway tracks.
"The benefit of retaining these access ramps without demolishing them on completion of the project is that they can be used by council to move maintenance machineries on the rail trail when it is in operation."
The report said that, after a number of residents along the railway land on Clarke Street in Penola expressed concerns regarding their privacy and security due to the construction of rail trail adjacent to their property, council officers developed options including building diversions from the rail tracks and planting trees and shrubs.
Other challenges evolved due to the twisted and uneven level of the railway lines on which the trail is being constructed requiring extra materials and work.
"By covering the rail tracks, a number of safety and quality concerns the community had raised with the council have been alleviated," read the report.
"Although these variations provide a better outcome for the users of the rail trail, there is a trade-off between the costs and benefits."